Despite a 2% increase last week, Brooklyn's real estate market supply is still shy of previous figures. The market remains tight, with little desperation from sellers to put their properties up for sale.

While deal volume has witnessed a slight 30-day decline with 467 transactions, an increase in contracts signed last week (101 deals) suggests a surge in buyer's activity despite the limited supply.

The rental market presents a different scenario with receding lease activity but stubbornly resilient asking rents. Landlords are often more inclined to offer deals than reduce asking rents.
Raise your coffee, ladies and gents! After spending a great weekend with the family at the Kahari in Pocono Mountains (a ridiculously amazing indoor waterpark that should be mandatory for every person with kids), I am here to share with you, like we do every week, some of the Brooklyn numbers from the prior week.
I also want to credit UrbanDigs because they crunch this data and give us the charts so we can empower you with this information weekly! Thank you, John and Noah!
So, let's jump right in.
INVENTORY
Last week saw a slight 2% bump in Brooklyn's supply, with 3290 grand properties grandstanding for the attention of eager buyers. But wait to celebrate: our numbers are still playing hard to get, disappearing behind the towering figures of yesteryears.
Here's the thing: despite the tighter market and the not-so-impressive number of sellers taking center stage. Buyers are going gaga over some properties, delivering brutal snubs to others. It's a balancing act that only Brooklyn could come up with! (maybe not, but I am biased!)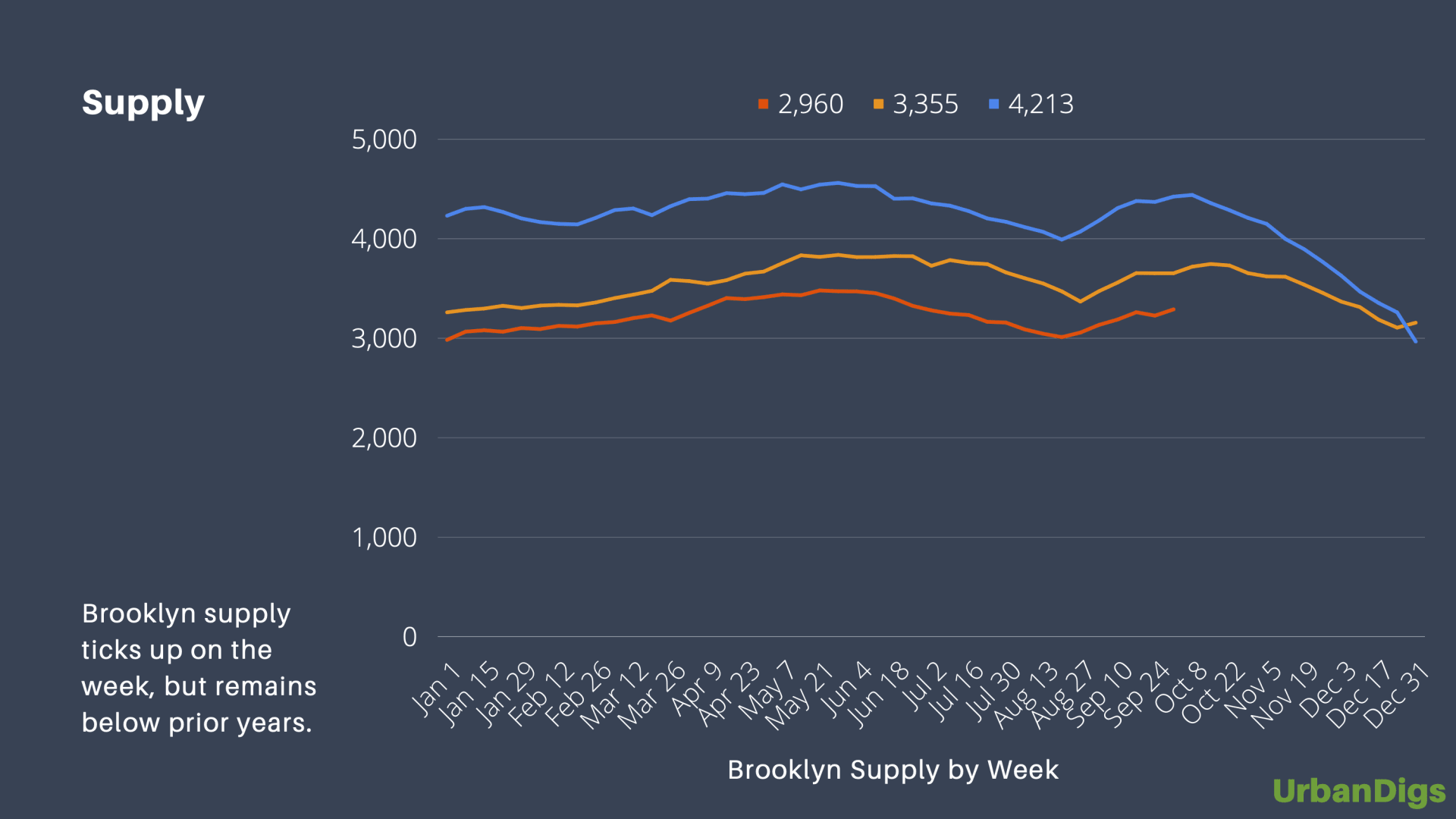 DEMAND
Shifting gears to the demand liquidity pace charts, our numbers indicate a slightly subdued performance – a slight 30-day decline in deal volumes, with 467 homes finding takers. Add in some late September deals still meandering on the route to finalization, and you've got yourself a murky forecast. (OUCH!)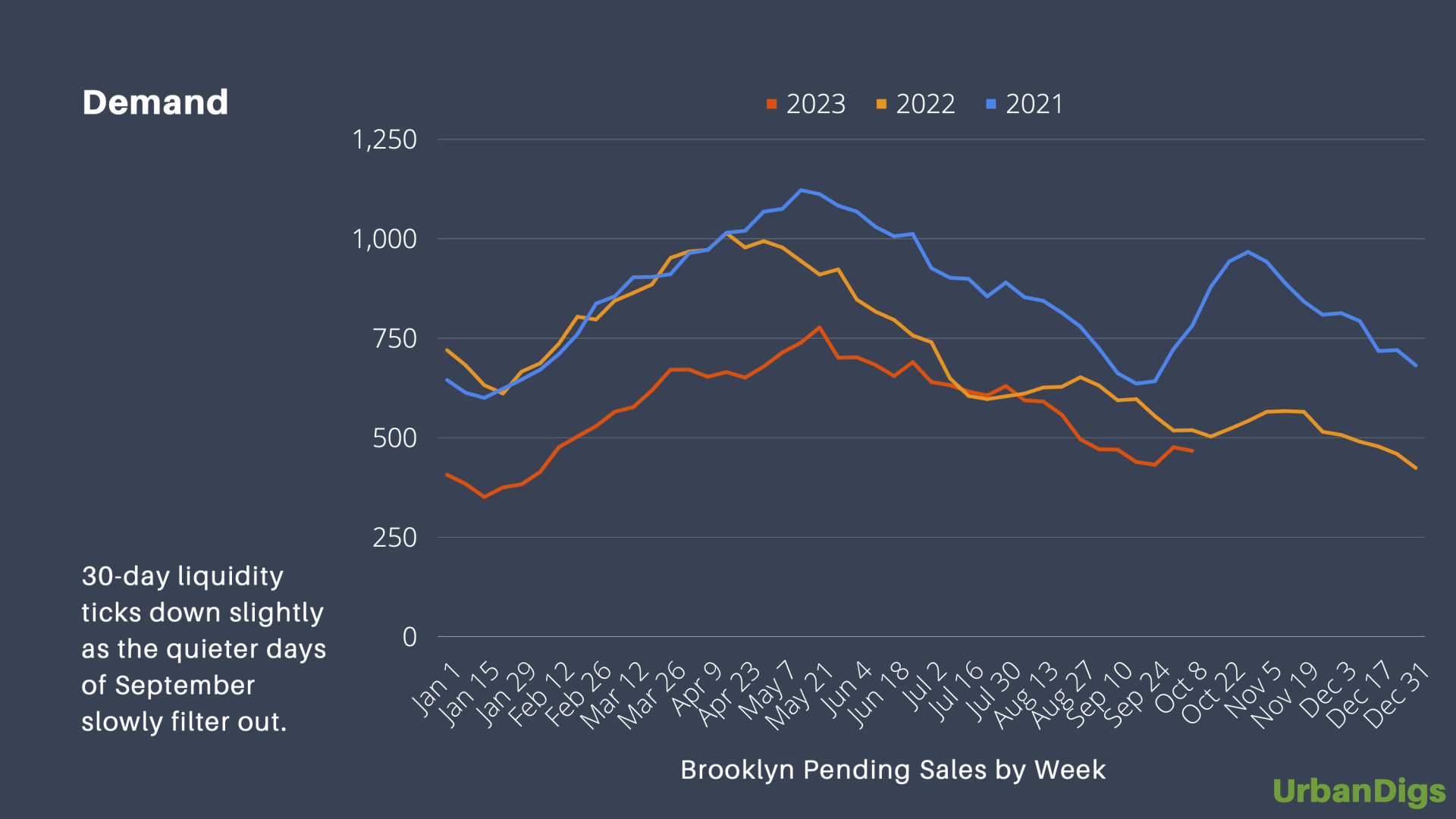 WEEKLY NUMBERS
Speaking of forecasts, the Weeklies have thrown some interesting bones our way. A 14% surge in new listings popped up like an eagerly awaited plot twist amidst our weekly numbers – 103, to be precise. It's fair to say that the lower-than-usual numbers (even these inflated figures don't touch last year's highs) are a compelling whisper of the stars aligning just right for Brooklyn's cautious sellers.
But hold up, would-be today's sellers aren't all that eager to embrace the limelight. The headache of moving and the irresistible appeal of lower rates keep them securely rooted in their homes. These people might NEVER MOVE! (OK, OK OK.. I am exaggerating...)
In a delightful contradiction, we've noted a bump-up in contracts signed last week with 101 deals, which drove spotlights around to the buyers, who apparently aren't fans of taking holidays off.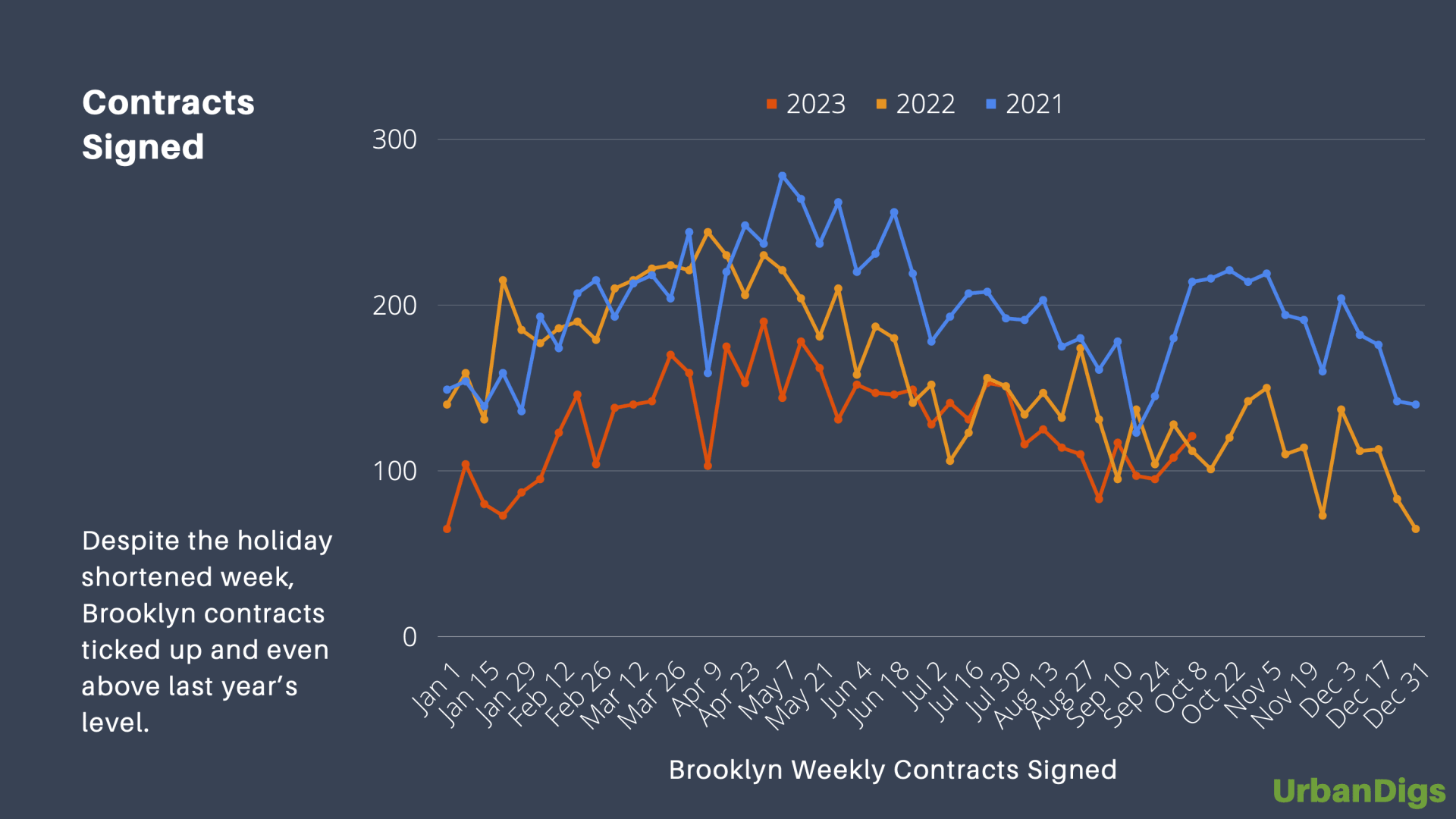 But here's where every good rollercoaster takes its thrilling plunge. While our numbers currently lean toward the sellers' favor, the overall landscape sits comfortably in neutral territory. Now, that's what I call an opportune moment for buyers and sellers alike – a market with a balanced seesaw, just the way we like it!
RENTALS
Let's switch to rentals for our grand finale: the slow, descending trend of leasing activity, balanced out by the green bars of median last asking prices. Despite the seasonality noose tightly wound around these trends, landlords appear more inclined to play Let's Make a Deal rather than compromise on asking rents.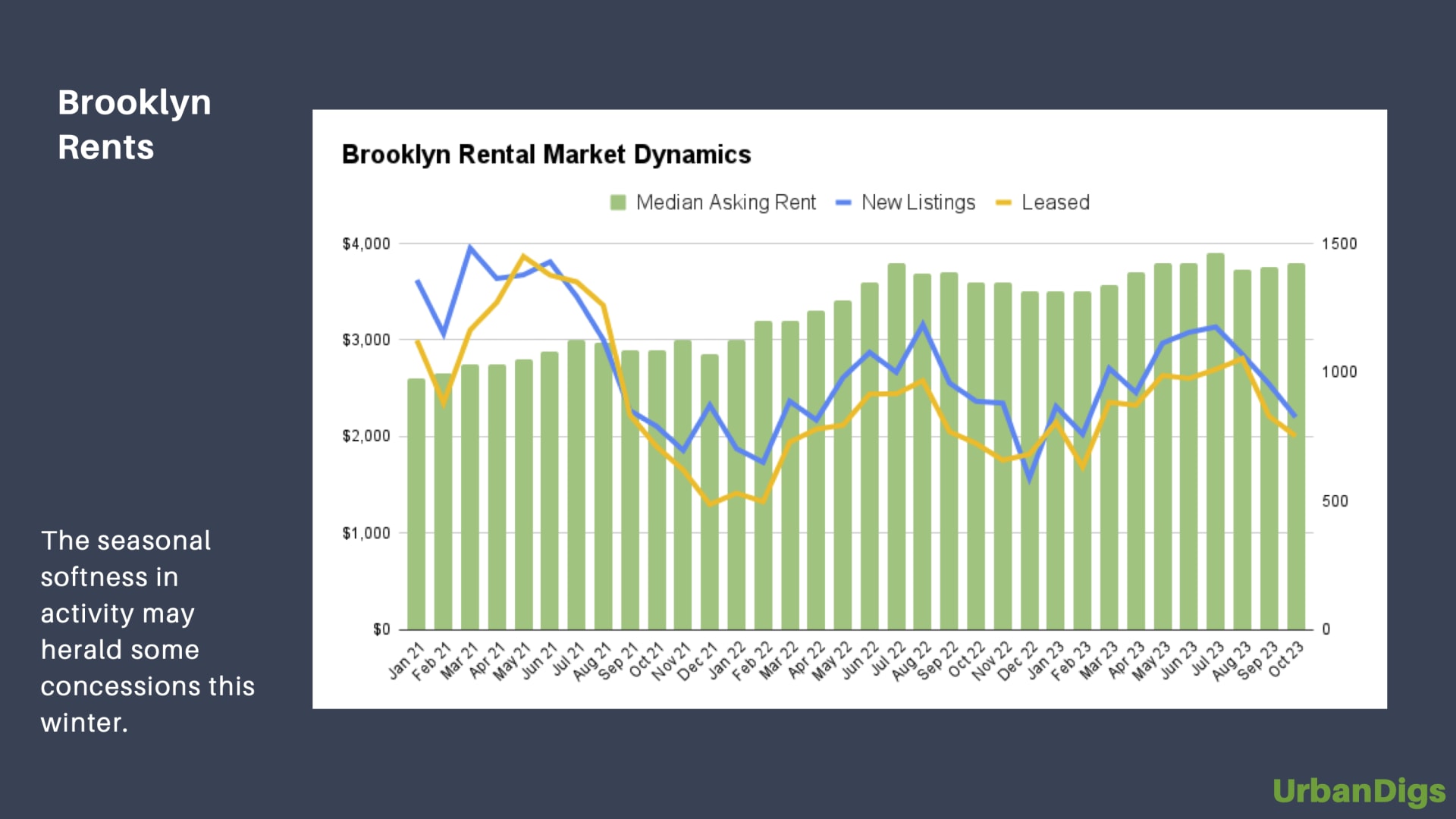 So, there you have it - a front-row seat to the dizzying Brooklyn real estate roller coaster. What's that? Do you want more? Well, be sure to circle back next week for another exciting chapter in the surreal thriller that is the New York City real estate market. Until then, stay safe!