Brooklyn's real estate market is exhibiting an interesting mix of trends: a decreasing overall supply but an upward trend in pending sales, suggesting an active demand side despite summer's usual slowdown.

Weekly supply shows a modest uptick for the third week in a row, and the number of contracts signed last week experienced a 6% increase. However, it's becoming increasingly challenging to successfully list in Brooklyn.

As the challenge level for sellers rises, the market pulse continues to be influenced more by falling supply rather than skyrocketing demand. The new 'Listing Climate Index' shows the market is tougher than before, but remains resilient.
Hello, amigos! I hope you all are thriving and surviving through this scorching NYC summer! As your friendly neighborhood real estate guru, it's time for our weekly market catch-up, with the spotlight on our beloved borough – Brooklyn.
Let's dive right in!
On this Friday afternoon, we see some interesting trends in Brooklyn. The overall supply is slightly decreasing, at 3,283 listings, an expected summertime trend we've seen in past years. It looks like Brooklyn's real estate market is enjoying a little siesta.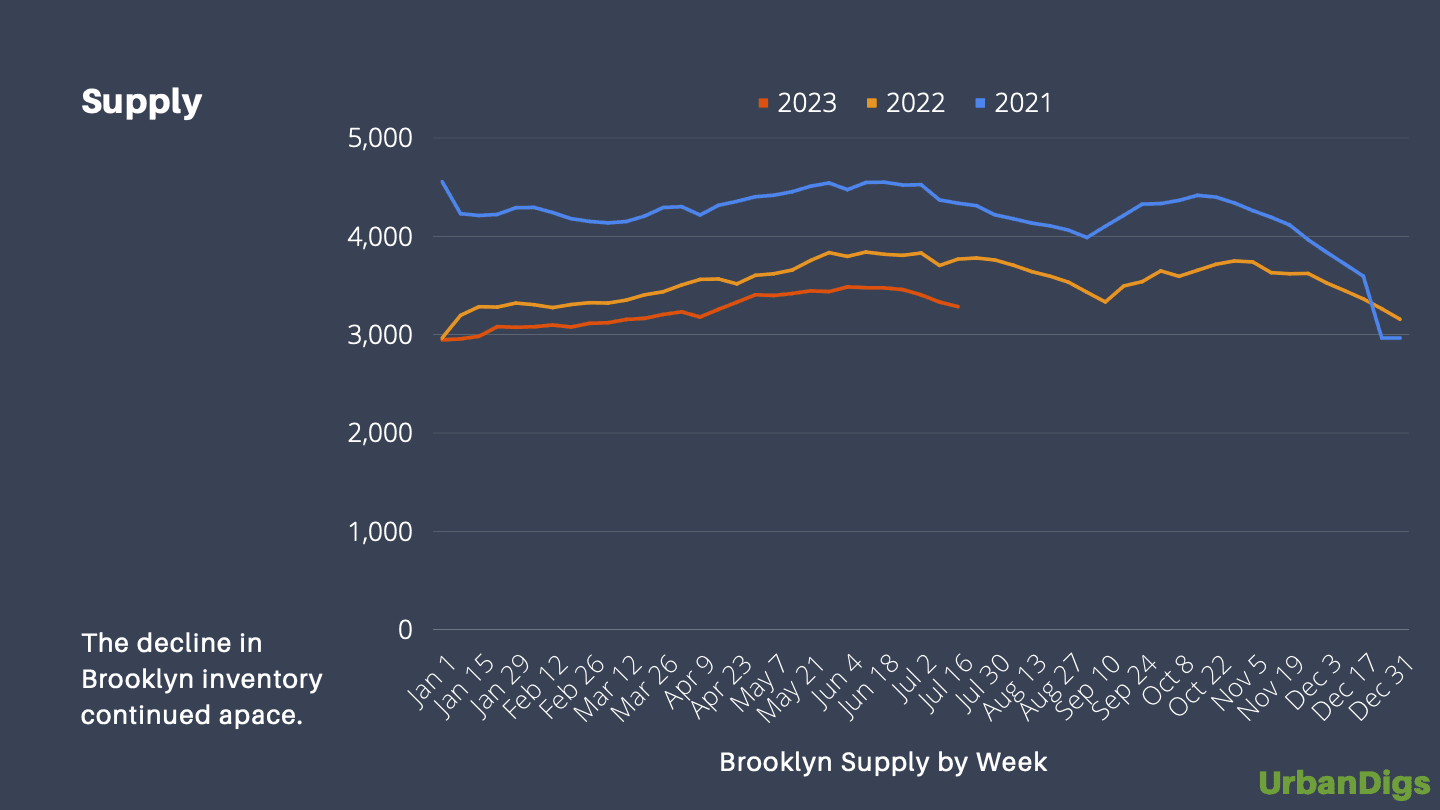 An interesting aspect of this week's update is that the number of pending sales is on the rise! With 2,219 properties awaiting closure, it's evident that the demand side is starting to rev up, showing an increase of 5% from last week. Compared to the same period in 2021 and 2022, this year's market is showing an interesting divergence, with an upward trend in pending sales rather than a decrease.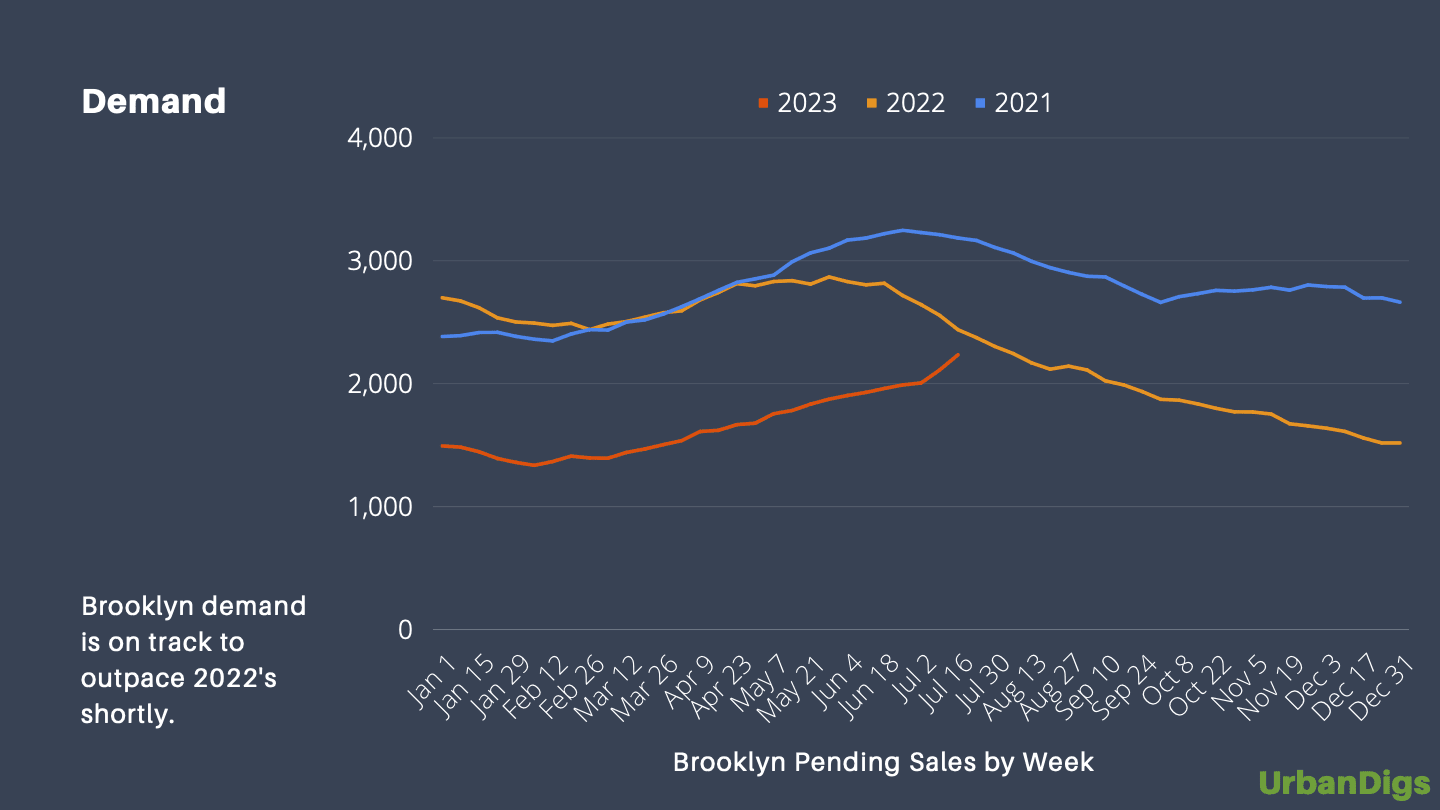 One downside though: our dear market pulse indicates a downward trend in deal volume and liquidity, a dip of 6% from last month. However, our optimism remains high because the metric of pending sales is still soaring. So, even with this temporary decline, Brooklyn's market is far from defeated.
In terms of the weekly Brooklyn supply, there's a slight increase of about 9.8%, counting at 168 new things this week. That's the third week in a row we're seeing an uptick, even though they aren't gigantic increases. But, considering the supply trends of the past years, the current levels are still pretty low. It's like the market's playing limbo – how low can you go?
On the other hand, new listings and supply aren't twins. Just because new listings are slightly climbing, it doesn't mean the overall supply can't take a dip. They can, and they do move independently, each swaying to their own rhythm.
The number of contracts signed last week hit the sweet spot at 141, a steady 6% increase. And while we're seeing a slight spike from the previous week, it's more or less strolling sideways when considering the overall weekly pace. The comparison with previous years shows that the Brooklyn market's vibrancy remains somewhat robust, especially when we look at the everyday transactional level. The market is holding its own, showing more strength than, say, Manhattan (no offense to my Manhattan buddies!).
Remember, amigos, a decrease in supply means more items are leaving the market than coming in. This dynamic, along with the rising demand, is pushing up the pulse. But don't get confused – the pulse is not just about the demand skyrocketing, it's also about the supply falling faster. The slowdown in Brooklyn in terms of deal volume is visible, but the new 'Listing Climate Index' shows some intriguing trends (thanks to urbandigs for the crunching the data!!).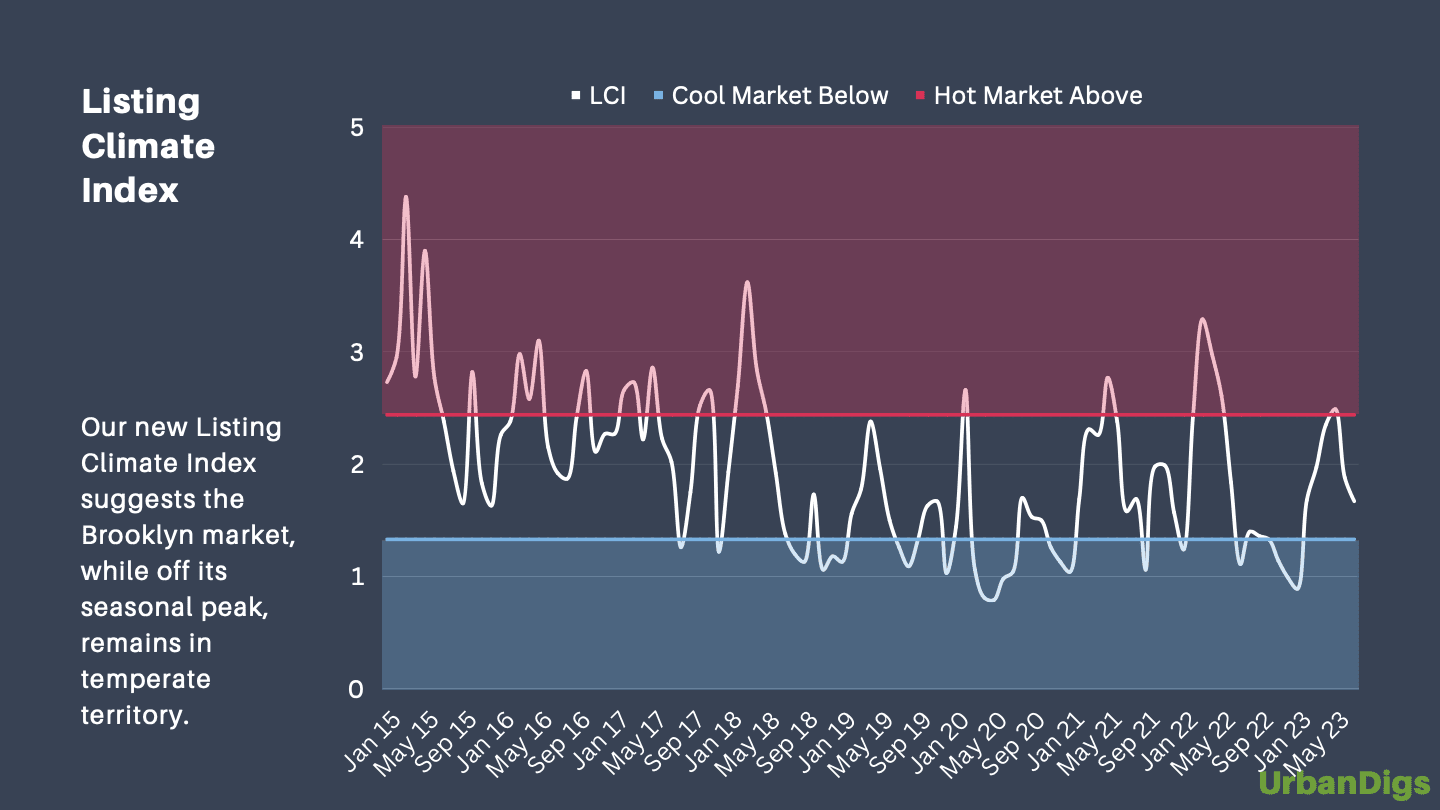 Their shiny, freshly baked Listing Climate Index is a ratio of contracts signed (the success!) to off-market data (the failure, ouch!). This index suggests that it's becoming increasingly challenging to successfully list in Brooklyn, though not as daunting as in Manhattan. But no worries, Brooklyn is tougher than it looks, and it's showing signs of settling right around the average July line.
As we savor our ice-cold sparklin' drinks this summer, let's remember the challenge level for sellers is increasing. Sellers, you may find yourself wondering, "I priced right, my property is more gorgeous than a sunset over the East River, so why aren't buyers flocking like seagulls?" Well, amigos, the current environment poses its challenges, and Brooklyn's market is just tougher right now than before.
So, as we roll into the next many weeks of summer, remember - navigating the real estate market is a bit like surfing. Sometimes, you're riding the wave; sometimes, you're under it. But no worries! Keep your cool, and you'll thrive just fine.
Stay tuned for more updates next week, and remember, if you have questions, feel free to reach out – I've always got answers. Stay cool, Brooklynites!